According to the State of American Vacation 2018 report by Project: Time Off, Americans continue to overproduce at work, foregoing over 700 million unused vacation days.
The study, which surveyed 4,349 American workers*, found that over half (52%) of American employees left vacation days on the table. The 52% who left vacation on the table accumulated 705 million unused days last year.
According to respondents, the average employee earned 23.2 paid time off days, an increase of 0.6 days over the previous year. While it is encouraging to know employees are earning more time off, 212 million vacation days were forfeited due to employees hitting company accrual caps. This is equivalent to $62.2 billion in lost benefits.
Effectively, employees donated an individual average of $561 in work time to their employer.
PTO still important to employees
Paid vacation (45%) is the second-most important benefit to employees, only behind health care (53%). PTO remains ahead of retirement plans (38%), flexible-work options (25%), bonuses (14%), and sick leave (10%).
The ranking does not change for employees who work in cultures that do not encourage vacation usage.
What is stopping employees from using vacation?
"Work-related challenges had the most influence on Americans' ability to vacation. Employees who were concerned that they would appear less dedicated or even replaceable if they took a vacation were dramatically less likely to use all their vacation time (61% leave time unused,compared to 52% overall). Those who felt their workload was too heavy to get away were also more likely than average to have unused vacation time (57% to 52%), as were employees who felt there was a lack of coverage or that no one else could do their job (56% to 52%)."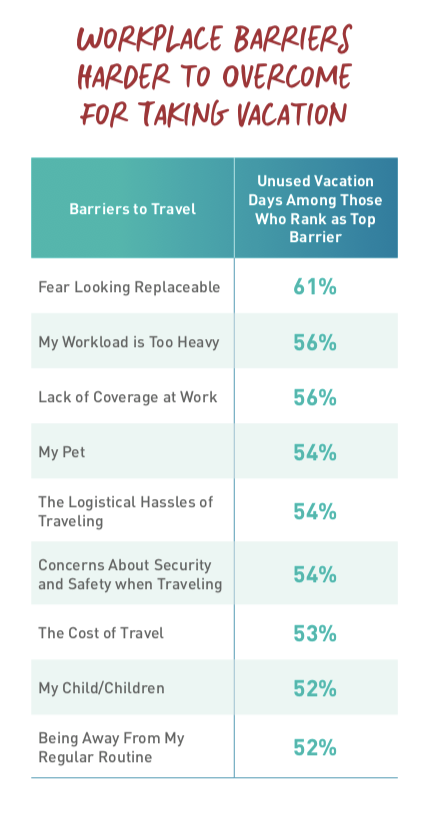 Disconnect, Vacation Shaming Are Real
Employees' uncertainty and senior leaders' perspective on time off continues to be a problem. According to the report:
62% say their company discourages, sends mixed messages, or says nothing about vacation time
40% of employees say they either are not sure or do not think their company wants them to use all the vacation time they earn
70% of executive and senior leaders feel strongly that the company wants them to use all their time off, while 64% say employees should talk about their vacation experiences when they return
---
Click here for the full report by Project: Time Off. All data is from Project: Time Off's State of American Vacation 2018 which was conducted January 4-23, 2018.
Talk to us about your situation and PTO options for your talent base.