Last week, we announced an oversubscribed $5.4M Seed II investment round led by TTV Capital with participation from Fin Capital, Manifold Group, CFV Ventures, SpringTime Ventures, Forefront Venture Partners and WestRiver Group. We could not be more excited to begin this next stage of our journey.
I founded PTO Exchange with Todd Lucas on the premise that PTO is earned compensation and that employees should have the option and flexibility to utilize it for life's transitions, needs and emergencies, based on their own priorities..
While we are firm believers in the value of taking paid time off to recharge and refresh, the reality is that only 4 out of 10 employees use all their accrued vacation each year. On average, employees leave one week of PTO unused each year, for a variety of reasons including job security, job demands, financial situation and more. According to research, over 750M days go unused each year in the US (2018, the latest year of data available). This number has grown due to COVID. In the last 2 years, employees put off taking PTO due to travel restrictions, staffing requirements, and worker shortages, among other reasons, leading to a ballooning PTO balance on corporate balance sheets.
Most companies have PTO accrual caps - so when an employee reaches this limit, he or she stops accruing vacation and forfeits this compensation. This "forfeited" PTO represents over $65B in lost compensation each year. "Lost" meaning money earned but not received by employees.
PTO Structures are Inflexible, Inefficient and Increasingly Obsolete
With so many workers living paycheck to paycheck, we feel this is just not fair. This $65B is accrued productivity and should be considered earned wages. But due to companies not wanting to accrue an increasing liability and regulatory complications, it has been nearly impossible for employees to convert this unused PTO into other benefits.
In our view, the significant labor shortage we are now experiencing coupled with a more empowered and demanding workforce renders current PTO structures inflexible, inefficient, and increasingly obsolete.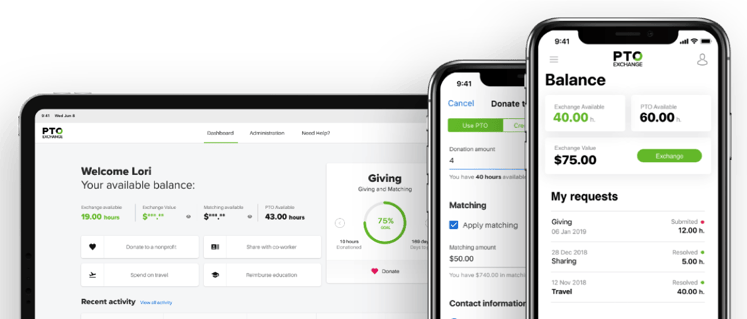 As an example, a hot category for us right now is healthcare. Healthcare providers rely upon fully staffed and engaged teams. Sadly, fewer and fewer shifts are filled to the level required today to meet those needs. Left with only two choices – refuse new admissions and struggle financially, or overwork an understaffed team and suffer from high turnover - the industry seems to be caught between a rock and a hard place. It goes without saying that we really need a robust healthcare system to thrive, but we are on the wrong track if we can't keep shifts full and frontline workers engaged while they take care of their (and our) families.
An easy way to increase engagement and retention is with PTO Exchange. Our platform allows employees to convert some of their unused vacation into cash, retirement, health savings, student loan payments, discounted travel, charitable donations and more.

And in the tightest job market in decades, employers need to build loyalty and reinforce an employee-first culture. They need to stand out in the war for talent.

With PTO Exchange, we help with all of this.
The Next Chapter
We are growing at a rapid pace and building our team with some of the best minds from HR tech, benefits, finance and SaaS. We have created a new category and have a vision for more and better options for both employees and employers.

As we embark on our next chapter, I also want to take a moment to thank our early beta customers and partners. Folks like Cecily Hall - your team at Premera Blue Cross took a chance on a new startup and you've provided invaluable input on our giving platform. We are also grateful for our partnership with Alight, which got us off the ground in 2018.

I want to extend a special thank you to friends and family for your early angel investments and your belief in our mission, and to Anthony Bontrager and the WRG team, which provided the first Seed round that really allowed us to prove our model.
It is a blessing to have our new investors supporting the company and making it a success. A special thanks to Sean Banks, Neil Kapur and everyone at TTV Capital, leading the round and bringing together an incredible syndicate of investors. We look forward to working with Logan Allin and Christian Ostberg at Fin Capital; Nat Clarkson and Ken Gacevich at CFV Ventures; Jessica Schultz, Joe Dwyer, and Brett Klein at Manifold; Matt Blomstedt and Rich Maloy at SpringTime Ventures; and Phil Nadel and Forefront Venture Partners.

Thank you and onward!
‍Rob Whalen – CEO & Co-founder, PTO Exchange