Welcome to our Partner Profile Series. Each month, we'll feature insights and perspectives from HR professionals and consultants working with various clients to address today's most pressing issues.

This month our spotlight is on Mercer. Mercer believes in building brighter futures by redefining the world of work, reshaping retirement and investment outcomes, and unlocking real health and well-being. It does this by meeting the needs of today and tomorrow, understanding the data and applying it with a human touch, and turning ideas into action to spark positive change.
This month, I sat down with Emily Hoselton, Principal of Voluntary Benefits at Mercer.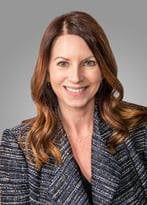 Can you tell us a little about yourself and provide an overview of your role and responsibilities within the Voluntary Benefits division at Mercer Consulting?
I was hired out of college by Guardian as a "rookie" Sales Rep and have been living in Chicago, working in the employee benefits industry ever since. I spent nearly 20 years in various sales roles for major insurance carriers before coming to Mercer on the consulting side last year. My role with Mercer is to engage with clients on the value of voluntary benefits as an important part of their employee total rewards strategy and how voluntary benefits can help advance other client-specific initiatives, such as DEI or total well-being. Outside of the office, I am married with an almost two-year-old daughter, a 14-year-old Pomeranian, and we adopted sibling kittens last fall, so there is never a dull moment in my house.
In your experience, what are some current trends or changes you have observed in the voluntary benefits market?
The last two years saw unprecedented workplace challenges (global pandemic, social/political unrest, strained work-life balance, compounding financial constraints from inflation). Some key themes include:
Employees are looking for more than compensation alone. They want to feel like they're working for an employer who cares and meets them where they are in terms of benefits for their particular life stage. A key driver is financial wellness solutions to help position employees amid the inflationary environment felt by today's workforce.
Employers seek ways to utilize technology and leverage existing relationships to simplify the employee experience.
How does Mercer Consulting stay updated on emerging voluntary benefits and market trends?
Mercer is very data-driven, as we lead the industry in conducting numerous annual employer surveys (e.g. Mercer National Employer Survey, Inside Employees' Minds, etc.). Additionally, as the largest voluntary benefits provider, we leverage our strong relationships with more than 100 carriers to get their input on what they're seeing regarding enrollment and technology trends, as well as innovative benefit solutions.
Can you share any examples of unique or innovative voluntary benefits that Mercer Consulting has introduced to clients recently? How has it used PTO Exchange?
While voluntary benefits programs have traditionally been geared toward providing employees with support for ordinary life events, today's programs evolve with their needs and help support them where they are now.
As lifestyle benefits gain traction, we're excited about the appeal of PTO Exchange. PTO Exchange allows employers to differentiate themselves with a flexible tool to enhance their total reward strategy, while employees can exchange unused PTO for alternative benefits (e.g., 401(k) contributions, discounted travel expenses, donating to charities, etc.). PTO Exchange is especially popular in specific industries such as healthcare and education.
How do you determine the effectiveness and impact of voluntary benefits programs for clients? Are there any metrics or indicators you use to evaluate success?
We see four main components contributing to the success of a voluntary benefits program: the benefits offered, communications, enrollment, and service support. A one-size-fits-all approach to voluntary benefits doesn't meet the needs of today's diverse and multi-generational workforce. When reviewing individual voluntary programs, we look at plan design, utilization, and creating solutions that employees truly value.
How do you anticipate the future of voluntary benefits evolving, and what opportunities or challenges do you foresee in the market?
As organizations look ahead to 2024 and beyond, employers must focus on reframing the employee experience and centering around a meaningful total rewards strategy that delivers value and benefits that enhance employees' total well-being. Employees' basic needs for security are not being met, and their needs are changing rapidly. Employees will gravitate toward employers who work with them and help support their overall needs. In addition to managing a dynamic workforce, employers will continue to face macro challenges, such as the cost of healthcare/plans, legislation, and compliance regulations (e.g., state Long-Term Care activity) and limited internal HR resources. Finding an innovative benefits partner will be critical to succeeding in these areas.
What sets Mercer Consulting apart from its competitors in the voluntary benefits space? What is your unique value proposition?
With over 85 years of experience in voluntary benefits program administration and over 1,350 clients, Mercer has the scale, experience, and expertise across our Wealth, Career, and Health verticals to create flexible solutions for our clients. With more than 450 dedicated voluntary benefits experts, we bring our clients a wealth of knowledge and experience, so they receive the current best practices and most innovative solutions. Our deep understanding of the challenges faced in the benefits marketplace allows us to create tailored, simple solutions that reduce gaps in employer-sponsored coverage, improve employee financial wellness, and strengthen talent retention efforts.
You can follow Mercer on LinkedIn and Twitter.
Learn more about our Partner Program and how you can be a part of it.