"There is such a war for talent that compensation is not a differentiator."
- - Tamla Oates-Forney
Chief People Officer, Waste Management
Despite the economic carnage wrought by the pandemic, 2021 will see the 'war for talent' re-emerge, according to senior HR professionals. According to the Society for Human Resources Management (SHRM), "the tide is about to turn." SHRM cites a study that shows that "more than half of employees surveyed in North America plan to look for a new job in 2021." We are seeing the beginning of the shift in power away from employers and towards workers.
According to Bloomberg, "The U.S. economy is set for a hiring boom in the months ahead, as the coronavirus pandemic recedes. There are signs it's already underway." The hardest-hit sectors, which accounted for a huge part of the downsizing, will particularly benefit from the "Great Reopening." These sectors include fitness centers, hotels and hospitality, restaurants, airlines, retail, nail salons and other service and manufacturing businesses. This will prompt companies to bring back furloughed workers and hire additional staff to meet the new demand.
Competition Heats Up for Workers
Wage rates have increased across the board to lure workers back. Employers "are aggressively competing for talent by increasing their compensation," said Julia Pollack, Labor Economist for ZipRecruiter. But simply increasing compensation is not enough, according to senior HR leaders and analysts. HR professionals are getting creative with a cornucopia of new benefits in an effort to stand out.
"We knew we had to do something radically different to make Waste Management attractive when you have other companies looking for the same type of worker," said Tamla Oates-Forney, chief people officer in a recent NY Times article. Waste Management now will pay for employees to earn bachelor's and associate degrees, as well as certificates in areas like data analytics. Further, the company will begin offering these scholarships to spouses and children.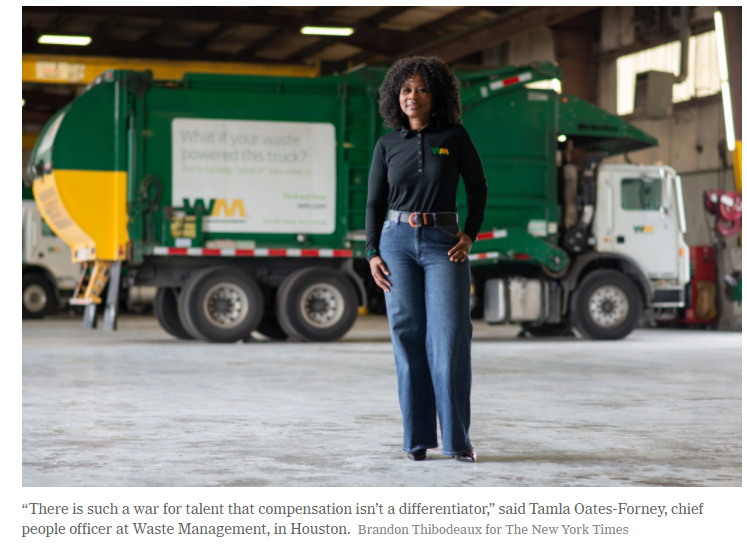 "We can do something that really changes people's lives," said Jim Fish, CEO of Waste Management. "For someone with kids in high school, this is a big deal."
A sampling of new benefits and incentives include:
"I've seen a lot of people offering monetary incentives, but we didn't feel that was enough. The college kids coming want something more than a paycheck. I don't think we're done with incentives... I suspect we will be coming out with more."

--Joy Rothschild, Chief Human Resource Officer, Omni Hotels
Why Bother?
Generous incentives are designed to both reduce turnover and attract new hires. And it makes monetary sense. For example, according to the New York Times, each time an hourly employee leaves Waste Management, it costs a minimum of $12,000 to search and hire a replacement. Further, among drivers at the company, 50% of safety incidents involve those with 3 years or less on the job.
"In terms of safety, the longer you are here, the better you are," said CEO Jeff Fish. "There is a real hook [with our education benefits] that can keep people here longer."
5 Strategies to Stand Out in the War for Talent
Smart, forward-thinking executives will notice the tide change and immediately take action. They'll put in place plans to attract and retain talent. The companies that prioritize their employees and do everything in their power to make them happy and motivated will be the winners in this new upcoming era.
Some incentives include:
Office / Remote Flexibility - 20 years of bandwidth infrastructure buildout, Zoom, Teams and other communications technologies proved remote work can succeed for the right roles and companies. Post COVID, many employees are looking for flexibility and remote options.
Wellness Benefits - Concierge services, massage therapists, meal options, on-site childcare; workplace benefits that save employees time and stress can be effective incentives in a competitive market. Importantly though, what many employees care about is great health insurance and wellness benefits that actually improve their lives. These include mental health, financial wellbeing, and social wellbeing programs. Plus – companies that offer wellness benefits often reduce their overall healthcare costs.
PTO Options - On average, employees in the US receive 3 weeks of vacation each year and use 2 weeks. One week is rolled over as an accrued liability for the organization, or possibly forfeited under use-it-or-lose it programs. For those with unused vacation, PTO Exchange is a great option. Employees can convert unused PTO into retirement, student loan payments, cash for unexpected expenses, donations, and more (see below for more info). PTO Exchange can improve company culture and retention without significantly affecting your bottom line.
Hiring Bonuses - employers are getting more creative in how they structure hiring bonuses. In addition to the traditional hiring bonus, some now also offer student loan repayment incentives and tax incentives to attract young people from outside the region and to keep local talent in the state.
Extended Family Benefits - such as vouchers for children's education, tuition reimbursement and fertility benefits.
How PTO Exchange Makes You Stand Out in the War for Talent
The best incentive to keep employees, however is the opportunity to work for company that they want to brag about. When it comes to employee recruiting, your company's reputational excellence is hugely important to your success. Employees can and will do as much research on potential employers as employers do of potential employees. Good and bad reviews can have a huge impact on your ability to attract good employees.
PTO Exchange is a highly differentiating benefit that gives employees more options to realize the value of their unused vacation, based on their own personal situation and priorities.
With PTO Exchange, employees can now exchange the monetary value of their unused vacation for:
Retirement savings - including 401(k) and Roth 401(k) plans

Student loans - tuition and loan payment reimbursement

Cash-Out - help pay for unexpected bills

Travel - exchange for airfare, hotels and other travel

Leave-sharing - donate PTO to fellow employees who may need it

Donations - contribute to over 1.7 million charitable organizations in the U.S.