The coronavirus pandemic has led to employees banking a massive surplus of unused vacation time. With travel plans on hold, employees are hoarding days off, creating a unique challenge for organizations.
Employees typically use their paid time off to travel, but with travel bans and potential health risks, the typical use of PTO is no longer a viable option; employers have financial skin in the game, as unused PTO is considered an accounting liability. Given that, HR leaders are looking at ways to encourage employees to take their paid time off now rather than waiting until travel becomes more readily available or during the holidays.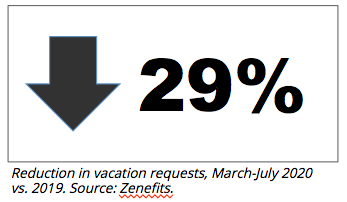 Early data suggest the decrease may be dramatic. According to a recent study cited in the Wall Street Journal by Zenefits, a human resources software company, workers at roughly 3000 companies submitted approximately 210,000 vacation requests from March through July of 2020. By comparison, about 295,000 requests were submitted during the same period of 2019 - a decline of almost 29%.
Other anecdotal examples reflect big decreases as well. According to the Chicago Tribune, Maestro Health - a company which administers other companies' self-funded health plans - has seen employees take 25%-30% fewer vacation days this year compared with "normal years." CEO Craig Maloney said "what we want to do is communicate with teammates and urge them to take time off to de-stress and decompress. We [leadership] need to model the right behavior when it comes to days off."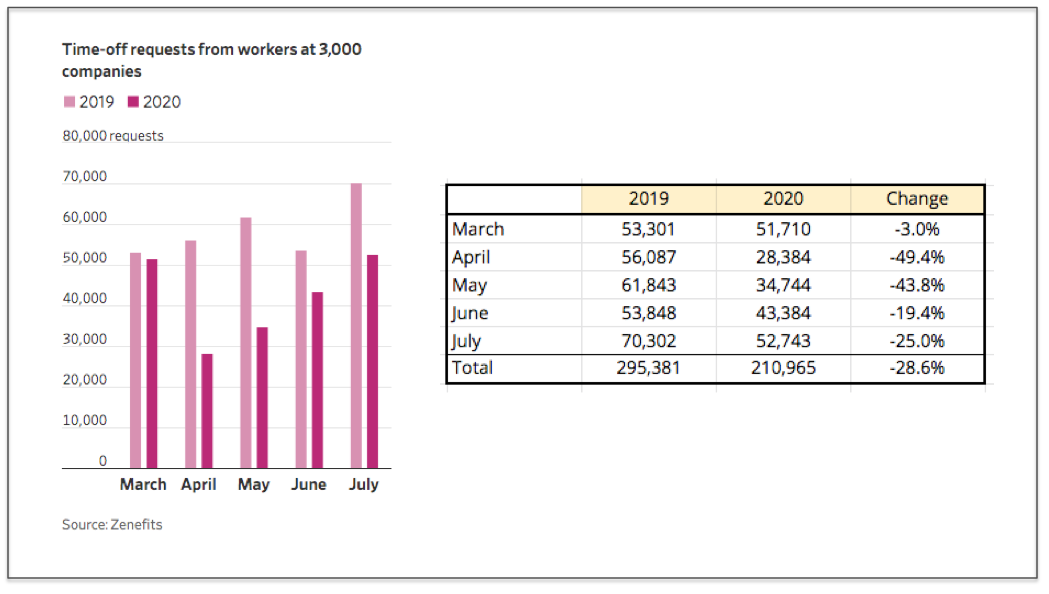 This appears to be the trend. "Lots of companies have said [that] we're worried about employees because nobody is taking vacation," said Carol Sladek, a Work/Life Partner at Aon, a leading global professional services firm providing a broad range of risk, reinsurance, retirement and health solutions.
A "PTO Bomb" May Be Coming
Brian Alcala, an employment attorney with Nixon Peabody, told the Chicago Tribune that "As people get back to the office there could be a PTO bomb whereby everyone will want to take their PTO by year's end."
This makes sense since the vast majority of companies allow employees to accrue PTO. According to a 2019 WorldatWork research study, about 95% of private companies accrue PTO, with only 5% having "unlimited" plans. 14% have "use it or lose it" plans, while a vast majority - 81% - allow some form of carryover from year to year. Unused vacation is logged as an accounting liability on corporate balance sheets, so companies notice when it adds up. "It's getting pretty painful," Peter Capelli, a professor at the University of Pennsylvania's Wharton School, told the Wall Street Journal.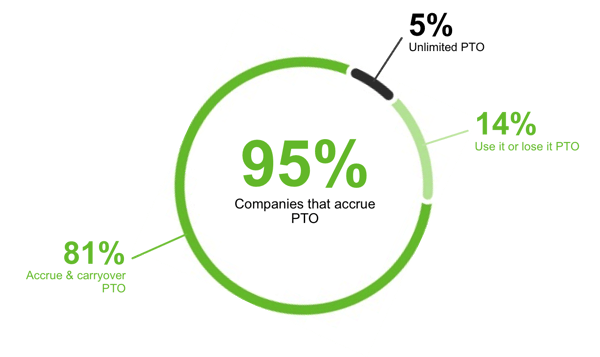 If current trends continue, companies could see an increase of about $60B in accrued PTO liability for all of 2020. According to WorldatWork, about $365B of PTO was accrued in 2019 across all companies and organizations in the US.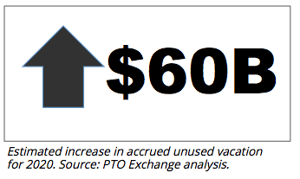 Of this total, $210B was used and $155B was unused.
If workers take 29% less vacation for the entire year, this translates into about $60B in additional accrued PTO liability.
Helping to Minimize Lost Days
Companies are facing a dilemma about how to address employees' reluctance to take time off. Limited vacation options are of course one reason - many normal vacation spots are not fully open, travel restrictions remain, and many employees may not be comfortable with crowds. Some employees are also concerned that they may get laid off and want the payout of unused vacation that many companies offer.
According to a recent study by benefits consultancy Willis Towers Watson, a significant portion of employers - 42% - have made or are planning to make changes to PTO, vacation and sick-day programs this year. Like Maestro Health, 24% of companies report to WTW that they plan to increase carryover limits into 2021. This is in the same ballpark as another survey conducted by Aon, which found that about 33% of employers were allowing more vacation days to roll over and more time to use them.
According to the Willis Towers Watson survey, a smaller share - 16% say they will require employees to take time to reduce the build up. Mandating leave is no silver bullet, however; it may not be practical in certain industries that have seasonal businesses (such as retail) or have requirements for physical staffing (like healthcare). Mandating leave can also have deleterious effects on employee morale and company culture.
And of course it's not practical for too many staffers to all take PTO at the same time. "I think it's possible later this year when shelter-in-place gets lifted, we might see a surge in people taking PTO," Robby Kwok, SVP for People at Slack Technologies, told the Wall Street Journal. "The last thing I would want to do is say, 'Hey everyone, I know you all want to go on vacation, but only 10% can go."
More Time Off, Less Time Used
For perspective, even before COVID-19 Americans were earning more paid time off but not using all their earned accrued vacation. For 2018 (the latest year data are available), more than half (55%) of American workers report not using all their days off - totaling 768 million unused vacation days for that year, up +9% vs. 2017, according to a survey commissioned by the US Travel Association.

Shockingly, 236 million of those days were forfeited completely - equating to $65.5 billion in lost benefits.
How does PTO get forfeited?
Virtually every organization has an accrual limit - meaning a number of earned, accrued PTO hours that employees cannot exceed. This is reasonable - you can't let accruals grow to infinity. So when an employee hits this limit and doesn't take vacation and reduce the PTO balance, then future earned accrual hours are not booked and the value of this compensation is retained by the organization.
This works out to an average of $571 / worker in donated work time. Essentially, employees are "giving back" to the company their earned compensation.
Before the pandemic, the average number of vacation days each worker took each year was trending upward after a pretty significant decline following the 2008 Great Recession. In 2018, the number of vacation days used increased to 17.4. On a whole though, Americans could be taking half a week more vacation each year.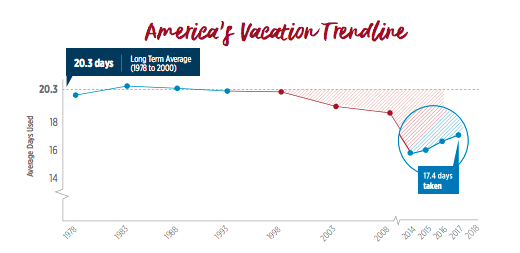 And these data of course do NOT reflect the latest COVID19-related reductions in vacation submittals. Expect this number to go down in 2020.
Give Employees More Ways to Use PTO
PTO Exchange has developed a flexible benefits platform that turns unused paid time off into liquid assets that can be converted into things employees value – retirement accounts, student loan payments, emergency cash-out, donations, leave-sharing, charitable causes and more.
This is a notable time with many companies making bold adjustments to their PTO strategy and trying to find new ways to help their employee community bridge the changes that are affecting their lives.

If PTO donations, leave-sharing, cash-out or one of our other service plans are something that can help your organization navigate through this situation, we are here to help.
Learn more how PTO Exchange can help with COVID19, and download our free info sheet below.
Additional Resources: