Welcome to our Partner Profile Series. Each month, we feature insights and perspectives from HR professionals and consultants working with various clients to address today's most pressing issues.

This month, our spotlight is on National Benefit Partners. National Benefit Partners (NBP) is an independent research and due diligence organization focused primarily on voluntary employee benefits in the worksite market. NBP's Allied Distributors (Brokers, GA's MGA's) are among the elite of the employee benefits industry. Each Allied Distributor has a proven track record and is motivated to expand their competitive position and enhance their ability to better serve their clients.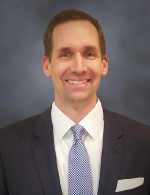 I sat down with Doug Kreszl, Managing Partner at NBP. As a managing partner, he works with employee benefits advisors to identify best-in-class products and services so they can continue to exceed their client's expectations.
Can you tell us a little about yourself and provide an overview of your role and responsibilities at NBP?
I joined NBP roughly nine years ago after spending the first 14 years of my career working for Mercer Investment Consulting as an investment consultant and Hartford Funds as the Head of Alternative Investment Research. I decided to leave the investment industry as NBP presented a unique opportunity to not only work for a small firm but also bring my due diligence and research expertise to the ancillary and voluntary benefits space.
Currently, I am a managing partner at National Benefit Partners. In my role, I help conduct due diligence on insurance carriers and service providers, identify up-and-coming products—like PTO Exchange—and identify industry trends to give our brokers an advantage in the market.
What are the biggest trends you've seen this year in the voluntary employee benefits and worksite insurance market?
Products with long-term care (LTC) have dominated activity, with carriers introducing new LTC products. While there are many reasons LTC should be dominating headlines, the potential tax that several states are considering is driving demand.
Another trend that just started a few weeks ago is student debt services. Now that payments to student loans have resumed, employers are asking brokers for solutions to help those employees.
The last major trend I've seen this year is the demand for mental health support services beyond EAP programs. Mental health has been a problem in our society, and employers are starting to realize how much of a toll it is taking on their workforce and how that can lead to productivity issues and absenteeism. Employees are asking for more help, and employers are listening.
What are some of the unique benefits that NBP offers to its allied distributors?
At National Benefit Partners, we believe that brokers don't have the time or resources to appropriately vet the carriers and their products or identify the latest products/trends in the marketplace, which is why we have an entire team/business model that does that and works on behalf of the broker. Given our focus, we are introduced to very innovative ideas all the time. Once we identify the need in the market for that particular service, we start our due diligence because we don't want to recommend something that may not be around in the market in a few years or have a short shelf life. After all, the entry barriers are low, or other service providers/carriers can easily add that feature to their existing products/services.
With that said, we believe PTO Exchange is one of those products that brokers need to know and start discussing with their clients before their competitors do. Some brokers believe that every product they introduce takes away from another product they are trying to recommend to employees. With PTO Exchange, it's the opposite. It doesn't take away from other voluntary benefits, and in fact, it may help increase the dollars an employee has available to purchase other voluntary benefits.
Another unique benefit that NBP brings to our producers is a program we created called Benefits That Benefit Children. This is a cause marketing program that allows brokers to give back to the communities in which they do business. The program doesn't cost the employer or employee anything, and through various partnerships with carriers, we can fund a donation to a local children's charity by simply getting access to their employees. It's a way to ensure that the employees are aware of the great benefits the employer is providing them while raising money for various children's charities. To date, we have raised over $1,000,000 for children's charities while providing recognition to the employer and broker.
What makes your "best-in-class" insurance products unique?
While we have created insurance products in the past and programs like Benefits That Benefit Children, what makes us unique is not the carriers or the products it's our process and our high-touch, high-service model. We believe the best products are not necessarily the cheapest or have the richest benefits. We use a four-factor analysis that looks at everything from business management to implementation, product/price, to the claims process to help determine which carriers and products will provide the employer and employees with the best experience. We have seen a lot of unique cases and have been asked to find solutions that are unique in the market, and that gives us the knowledge to truly understand a carrier and expertise to know where we can negotiate to ensure that a broker's client is getting the best offer available.
How does NBP support its allied distributors with underwriting and administration?
When we are provided with an opportunity, we like to take the time to understand who the client is why they are looking for that particular product, and the access, enrollment, and system being used. From there, we work to negotiate the best offer possible from our carrier partners, help the broker choose the best fit, and then quarterback the entire process to take the burden off the broker and ensure a smooth rollout, especially when multiple carriers/providers are included.
How do you compare to your competitors?
The interesting thing about our model is that we don't have many competitors. We are a revenue-neutral resource to brokers and approach the market from a carrier-agnostic perspective. We believe in proving our model is more efficient and will deliver better results than the current process a broker takes. Our main competitor is the compliance of a broker's current process. We tend to work with brokers looking for an advantage in the marketplace and are open-minded to trying a new approach if it will yield success.
You can connect with National Benefit Partners on LinkedIn.
Interested in becoming a partner? Learn more about PTO Exchange's partnership program.