Welcome to our Partner Profile Series. Each month, we feature insights and perspectives from HR professionals and consultants working with various clients to address today's most pressing issues.
This month, our spotlight is on Transamerica. Transamerica is a leading provider of voluntary benefits backed by the financial strength of AEGON, one of the world's leading international financial organizations. For 90 years, Transamerica has offered one of the most comprehensive portfolios of group and voluntary employee benefits in the worksite industry, allowing employers and organizations to provide competitively priced healthcare options alongside voluntary options that help with out-of-pocket medical expenses for their employees and members.

I sat down with Domenic Salvato, Head of Large Market Sales & Distribution at Transamerica. Dom joined Transamerica in 2012 and has more than 20+ years of group benefits experience. As Head of Large Market Sales & Distribution, Dom develops relationships with national and regional health consulting firms to drive Transamerica's value proposition. His sales team provides voluntary benefit and group life, STD, LTD, and absence solutions to consultants with clients with over 2,000 eligible employees, and his account executive team focuses on client satisfaction and retention.
Can you tell me a little about you and your role as Head of Large Market Sales & Distribution at Transamerica?
I've been with Transamerica for almost 12 years and have led the Large Market sales team for the past seven years, focusing on groups with 2,000 or more employees. In addition to leading the sales team, I was recently given the opportunity and responsibility to lead the account executive team, whose main responsibility is client and broker satisfaction.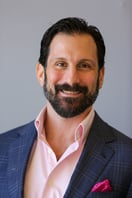 What trends have you observed in the voluntary benefits market, and how has Transamerica adapted its offerings to meet the changing needs of clients and brokers?
Over the past 20-plus years, we have seen voluntary benefits go from a niche subsection of the employee benefits industry to a main component of benefit planning alongside medical, dental, and group life and disability. Supplemental health and permanent life insurance have become relied upon and valued benefits with employer groups of all sizes.
Could you discuss any recent product innovations or enhancements in Transamerica's voluntary benefits portfolio that have gained traction in the large market segment?
Our recent partnership with PTO Exchange has been extremely popular in the broker and consultant marketplace. The need for meaningful value-added benefits has never been greater, and PTO Exchange's offering is catching attention across the industry. Unused PTO time is a common reality in today's workforce, and the ability to use that time to strengthen the community and reduce balance sheet liability is a mutually beneficial benefit for both employees and employers. The concept has been resonating very well in the benefits community.
What key strategies have effectively built and maintained successful relationships with insurance brokers in the large market segment?
Relationships are still the bedrock of our industry. Ensuring brokers receive responsiveness, accuracy, and timely issue resolution is at the forefront of gaining trust. Simple but not always easy!
How does Transamerica differentiate itself in the competitive voluntary benefits landscape, and what unique value propositions do you offer to brokers and their clients?
It has become more competitive than it has ever been. But I've been saying that for almost 25 years! To combat competitive pressures, we rely on developing deep, trusting relationships. We have competitively priced products and contract language. But we don't have a monopoly, so we must consider different ways to stand out. I aim to create an unparalleled experience for the client and the broker. After the HR team forgets about the lowest cost or the differences in benefits, they will do two things monthly. Pay a bill and send a file feed from their benefits administration system. Our goal is to make this the most efficient and seamless process in the industry. In addition, our account executive team ensures that the client has a concierge level of service where problems are resolved quickly and with friendliness, compassion, and empathy. Excellent service is the future of our business.
What are clients' most common misconceptions or challenges when considering voluntary benefits, and how do you address them?
That participants don't utilize benefits. To remedy this, we have partnered with data warehousing and predictive modeling firms that help remind participants to file a claim when an event is triggered on their medical plan. This is a huge step forward in the industry and is becoming widely adopted across carriers. Additionally, we provide stewardship reporting to inform clients about participation and claims. Transparency is critically important as clients consider adding or replacing benefits.
Employee engagement and education are vital for the success of voluntary benefit programs. What strategies or tools does Transamerica offer to help clients maximize employee participation and understanding?
We intend to meet the client where they are and make it easy for them to fit our products into their benefits ecosystem. We provide the tools and support to allow clients to add our products to their core enrollment, benefits administration, or ERP system.
Voluntary benefits often intersect with broader employee well-being initiatives. Can you discuss Transamerica's holistic approaches to address financial and overall well-being?
Transamerica is a multinational financial services firm. We can offer both retirement and employee benefits to our clients. We have partnered with benefits administration firms that allow us to show both retirement and benefits on the same system. Additionally, we offer HSA, FSA, ICHRA's, and our partnership with PTO Exchange!
What are the most significant opportunities and challenges in the voluntary benefits space, and how is Transamerica preparing to address them?
Addressing state and federal suggested legislation. From requiring LTC benefits to questioning the efficacy of supplemental health, it is at the forefront of the minds of clients, brokers, and carriers. Transamerica will always take a measured and thoughtful approach to ensure long-term financial stability for our clients. We want to ensure we are here for the long haul to provide important benefits for our participants when they need them most. Being transparent and dedicated to fundamentals will always be the bedrock of approaching the ever-changing landscape.
You can connect with Transamerica on LinkedIn.
Interested in becoming a partner? Learn more about PTO Exchange's partnership program.