The coronavirus pandemic has led to employees banking a massive surplus of unused vacation time. With travel plans postponed or on hold, employees are hoarding days off, creating a "PTO time bomb" and a unique challenge for organizations.
While the ultimate impact of COVID-19 is still unknown, we do know at least one thing: the coronavirus pandemic has led to employees banking a massive amount of accrued PTO.
Employees typically use their paid time off to travel, but with travel bans and continued potential health risks, many have foregone or reduced vacation in 2020.
Employers have financial skin in the game, as unused PTO is considered an accounting liability. Given that, HR leaders are looking at ways to manage and mitigate this "time bomb" that minimizes disruptions and provides appropriate support and flexibility for employees.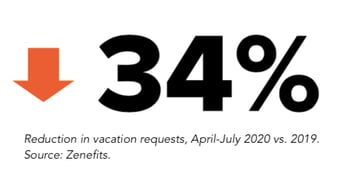 Early data suggest the decrease in vacation (and increase in PTO) may be dramatic. According to a recent study by Zenefits, a human resources software company, workers at roughly 3000 companies submitted approximately 160,000 vacation requests from April through July of 2020. By comparison, about 242,000 requests were submitted during the same period of 2019 - a decline of almost 34%.
Anecdotally, "lots of companies have said [that] we're worried about employees because nobody is taking vacation," said Carol Sladek, a Work/Life Partner at Aon, a leading global professional services firm providing a broad range of risk, reinsurance, retirement and health solutions.
The "PTO Time Bomb"
Brian Alcala, an employment attorney with Nixon Peabody, told the Chicago Tribune that "As people get back to the office there could be a PTO bomb whereby everyone will want to take their PTO by year's end."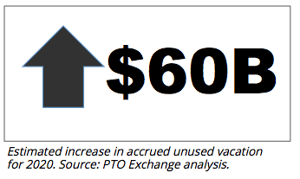 This makes sense since the vast majority of companies allow employees to accrue PTO. According to a 2019 WorldatWork research study, about 95% of private companies accrue PTO, with only 5% having "unlimited" plans. 14% have "use it or lose it" plans, while a vast majority (81%) allow some form of carryover from year to year.
Unused vacation is logged as an accounting liability on corporate balance sheets, so companies notice when it adds up.
Accross all industries, if current trends continue, companies could see an increase of about +$60B in accrued PTO liability for all of 2020.
Why Are Employees Not Taking Vacation
More than one in ten employees (13%) say they won't take time off work until the pandemic is over, according to new data from software firm Zapier.
Reasons include:
A large group (33%) of employees feel it's a waste to take time off due to travel restrictions;

The second-largest group (24%) say it's difficult to justify time off when they are working from home;

Many employees (18%) say they are taking less vacation due to working more hours as a result of the pandemic; and

A significant number (15%) of workers say they are just nervous to take time off in a volatile job market.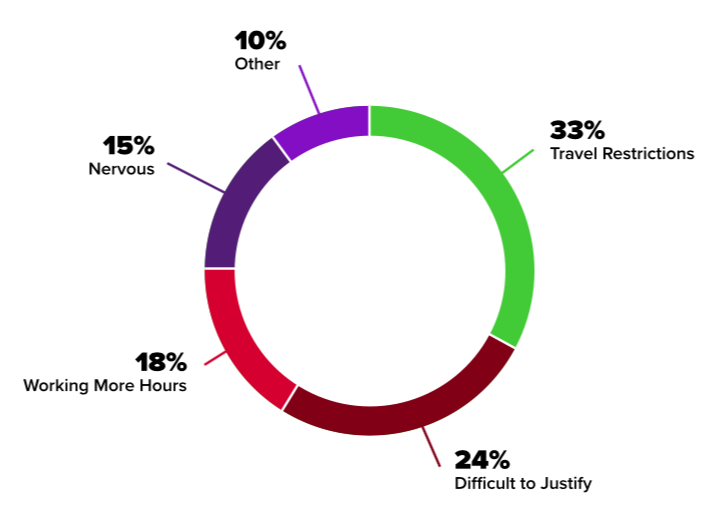 These obstacles may mitigate somewhat as the pandemic comes to a close, but it will take time for people to get comfortable again and it will take time to work down the record PTO surplus.
5 Ways to Address the PTO Time Bomb
Employers basically have 5 broad options for dealing with the PTO time bomb:
Brute Force Method

Truth / Soft Encouragement

Short-term Incentives

Kick the Can

Get Proactive
Learn more about these options and more by downloading our free eBook, "The Coming PTO Time Bomb.. and what you can do about it."
How PTO Exchange Can Help with the PTO Time Bomb
PTO Exchange has developed a flexible benefits platform that turns unused paid time off into into other assets employees value – retirement accounts, student loan payments, emergency cash-out, donations, leave-sharing, charitable causes and more.
This is a notable time with many companies making bold adjustments to their PTO strategy and trying to find new ways to help their employee community bridge the changes that are affecting their lives.

If PTO donations, leave-sharing, cash-out or one of our other service plans are something that can help your organization navigate through the PTO time bomb, we are here to help.
Additional Resources: