Employees can now convert their unused vacation days into discounted airfare, hotel rooms and car rentals
REWARDS '22 CONFERENCE - ATLANTA, GA - May 23, 2022 - PTO Exchange, the leading benefits platform that allows employees to self-direct the value of their unused paid time off (PTO) for other needs and causes, announced today that it has expanded its discounted travel options for customers and their employees. PTO Exchange will now offer a broader set of benefits via its travel partners through its PTO Travel option.
PTO Exchange is the first flexible benefits platform to offer the ability to convert unused vacation days to help employees pay for a trip. With its travel partners, PTO Exchange adds value to an existing benefit by offering a convenient way for employees to convert their unused vacation into discounted (15 percent or more) hotel rooms, airfare and car rentals, from dozens of travel brands in the US and beyond.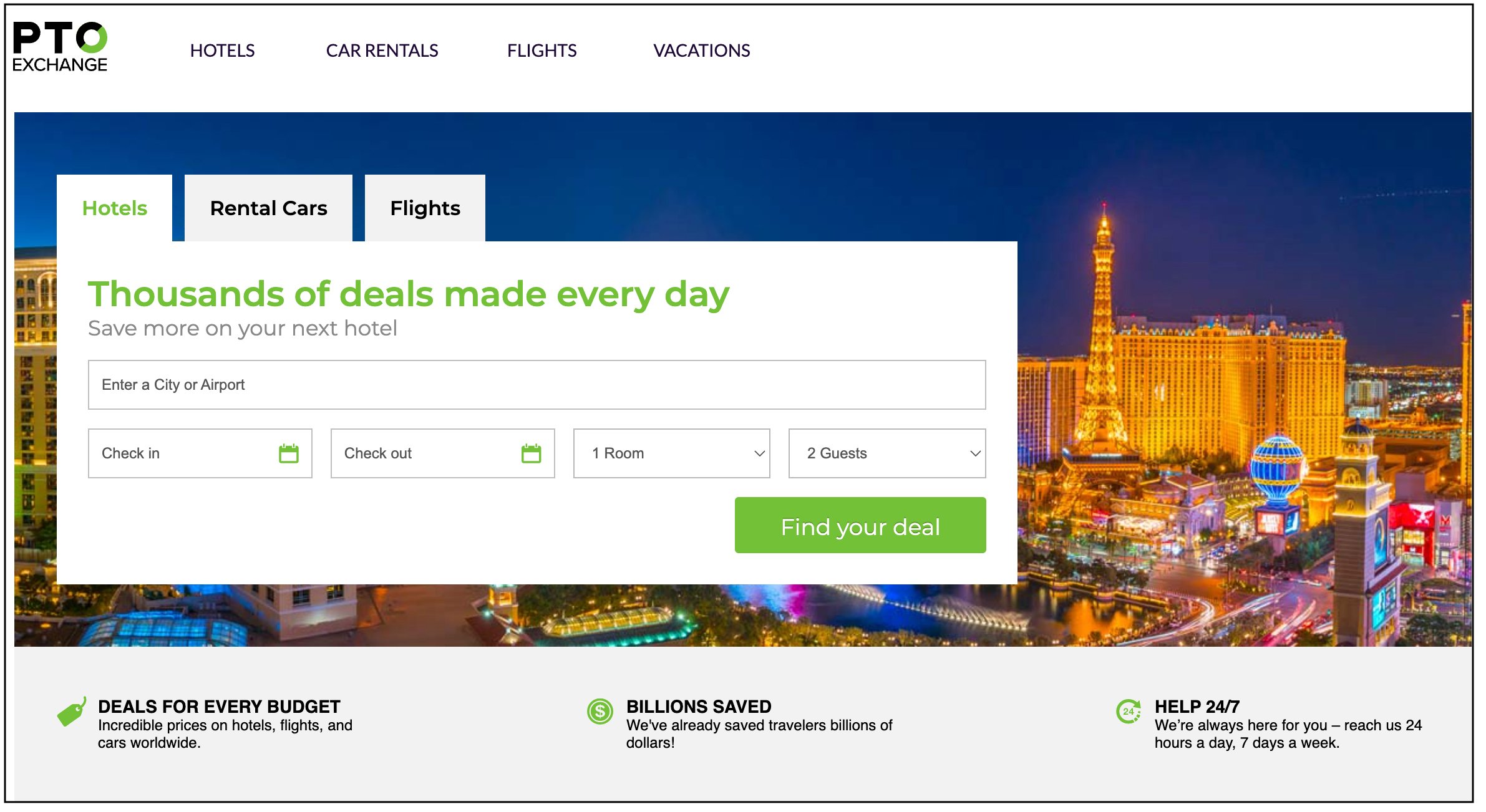 "We're thrilled to announce the expansion of PTO Travel," said Rob Schwend, VP of Product at PTO Exchange.


"Now employees can garner even more value from their existing leave benefit. This is another reason why our platform is the leader in the category - we are offering something unique in the marketplace."
How it Works
Employers offer PTO Exchange to their employees to give them more options for realizing the value of their unused vacation days, based on their own needs and priorities. To book vacation rewards, employees:
Login through a Single Sign On (SSO) on their HR portal or directly via ptoexchange.com.

Review their Dashboard showing the number of PTO hours accrued in total, the number of PTO hours that are available to exchange, and the value of the PTO available to exchange.

Select the "Travel" button to be redirected to travel page

Select the "Book Travel" button to be redirected to our partner travel portal

Select among discounted hotels, rental cars or flights

Purchase selected travel using a personal credit card

The Travel Portal updates PTO Exchange with the itinerary and purchase details

Employees then choose the number of PTO hours to exchange to pay for travel purchases

PTO balances are automatically adjusted

PTO Exchange launched in 2018 to provide choice and flexibility for the employee, a differentiated benefit to help the HR team with engagement and retention, and reduce liability for the Finance Department.

About PTO Exchange
PTO Exchange is the leading benefits platform that allows employees to self-direct the value of their unused paid time off (PTO) for other needs and causes. The platform caters to employees' individualized needs and different transitions in life (retirement accounts, student loan repayments, charitable donations, and more) – offering a choice and flexibility to control the value of their PTO. PTO Exchange helps increase employee engagement and retention, build loyalty, and allows companies to stand out in a competitive job market all while reducing balance sheet liabilities and strengthening culture and community. PTO Exchange is SOC 2-certified and trusted by STRATACACHE, Howard Brown Health, UCare, Centre College, Griffin Capital, 4 Wall Entertainment, and others. Learn more at www.ptoexchange.com.
Media Contact
Kristen Grossi
talkTECH
kristen (at) talktechcomm.com